We offer a couple of solutions for shorelines. These are either riprap with stone and fabric or installing a vinyl seawall. When doing riprap, we have the options of two different stones, riprap size (size of footballs) and gabion sized stone which are about 5-8 inches in size. The riprap is common for areas with more wave action and gabion is a great solution for quieter coves and such.
We also offer vinyl seawalls for softer shorelines. We will come out and determine in the estimating stage if your shoreline is a good candidate for a vinyl seawall.
We install beaches as well. These can be bordered with wood or boulders.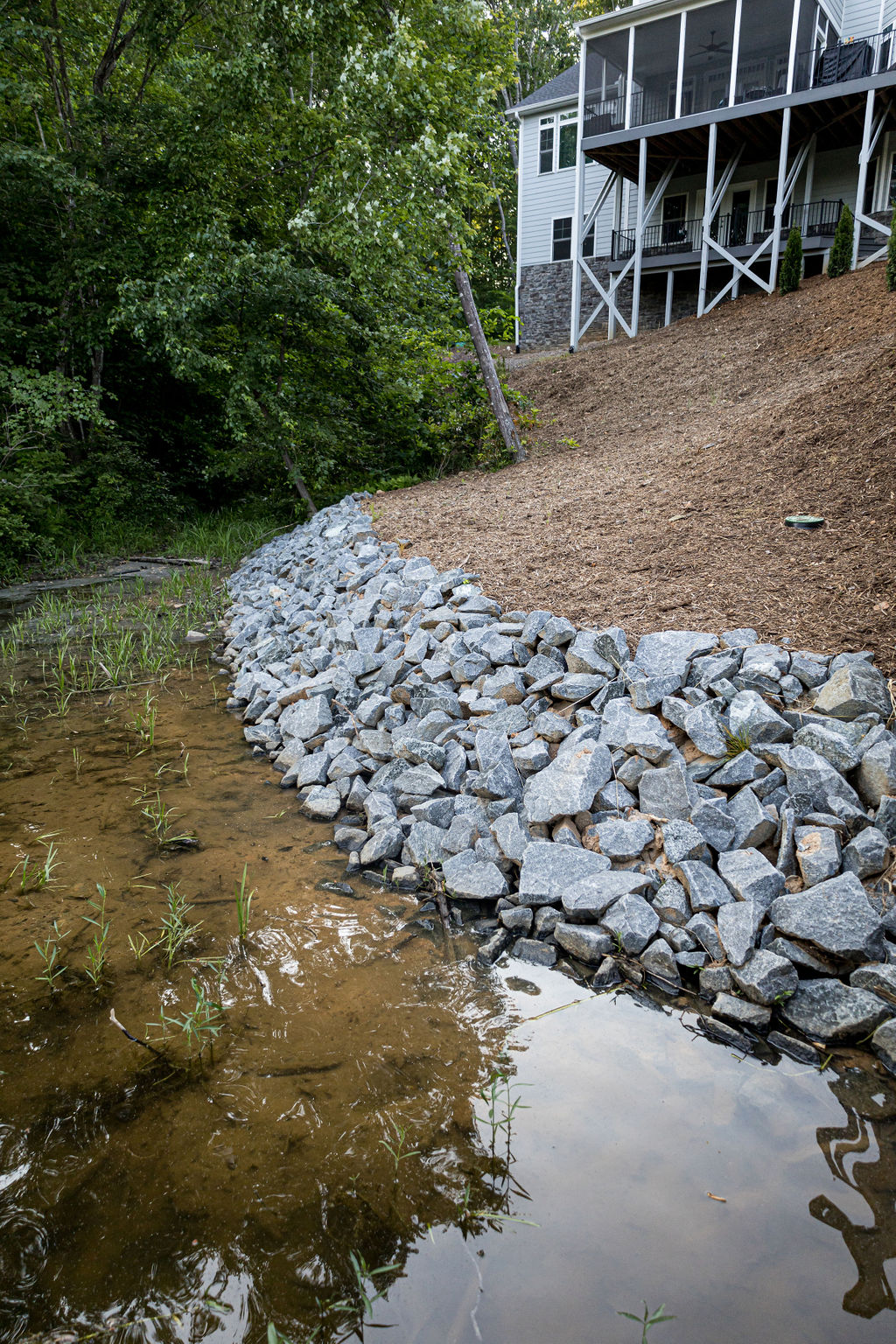 Below is a seawall project completed by our team. This was an installation completed in a cove, where erosion wasn't a large concern, but the shoreline was always wet, hard to mow and not very inviting. We installed a wall for both houses in the cove with a set of steps framed into the seawall right on the property line (half for each property).
Below is a riprap project completed on a majorly eroding shoreline. We also created a shelf for the homeowner to access the waterfront much easier.
Below are some before, during, and after photos of a shoreline project we tackled on a steep shoreline. We stabilized the shoreline with some very heavy duty fabric, topped with riprap & gabion sized stone. We were able to create a shelf for our client to enjoy their waterfront and get better access to their boathouse, and play cornhole.
This project's focus was to extend the life of the existing seawall. The vertical boards were no longer touching the lake bed and began washing out from underneath. This resulted in holes and sinking behind the wall. We installed a heavy duty fabric in front of the wall, and placed Gabion stone to hold it in place and to help seal the open area at the bottom of the wall. This will help extend the life of the wall for many years. We brought in topsoil to regrade, seed and straw the completed work.
The project below was completed when water was low. We added concrete to the bottom section of the wall, installed fabric and placed rock over the fabric. We were able to minimize land disturbance behind wall.
Below was a riprap project completed by our team. The original riprap was installed approximately 7 years ago, and due to a number of reasons it was beginning to fail. Waves were crashing over the top and were really eroding the shoreline. We brought in a total of 13 loads of fill to raise the shoreline for easier mowing and to prevent waves from crashing over the top. We upgraded the fabric to a very heavy duty grade. We reused all of the existing riprap stone and also brought in an extra 34 tons of natural stone to replenish and stabilize the shoreline. To finish this project we brought in two loads of topsoil to ensure that grass can grow properly.
Below is a wall repair on a heavily leaning wall, which was causing major erosion from behind. The existing tiebacks were non existent. We pulled the wall back as close to level as we could get it, installed dead-men posts and secured the wall with cables to keep it straight. 
We can also install a set of steps into your riprap shoreline to provide access to you or your pets getting in and out of the water easier.